Hi all!
¡Hola a todos!
This time it's not about painting, it's about this new product that Coolminiornot has launched. The instant mold.
Esta vez no se trata de pintura, se trata de un nuevo producto que Coolminiornot ha lanzado. El instant mold.
You can see a video about it here:
Pueden ver un video acerca de él aquí:
Now I already have the instant mold in my hands, and honestly, its a very good product!
Ahora ya tengo el instant mold en mis manos, y honestamente, ¡es un producto verdaderamente bueno!
As you can have seen before, every miniature of my Menoth army have a molded base. I bought them from epicast, but they no longer had those bases anymore (at least not for 50 and 40mm), so I just don't want to change all of the bases because I cannot buy them, and I also didn't wat to have different kind of bases on my army. So I have been able to create my own bases, using instant mold. Here is a picture:
Como ustedes han podido ver, cada miniatura de mi ejército de Menoth tiene una base moldeada. Las compré en epicast, pero ellos ya no tienen más de estas bases (por lo menos no las de 50 y 40mm), y yo no deseaba cambiarle las bases a todos debido a que no podía comprar más, y tampoco quería tener distintos tipos de bases en mi ejército, así que ahora soy capaz de crear mis propias bases, usando instant mold. Acá tienen una imagen: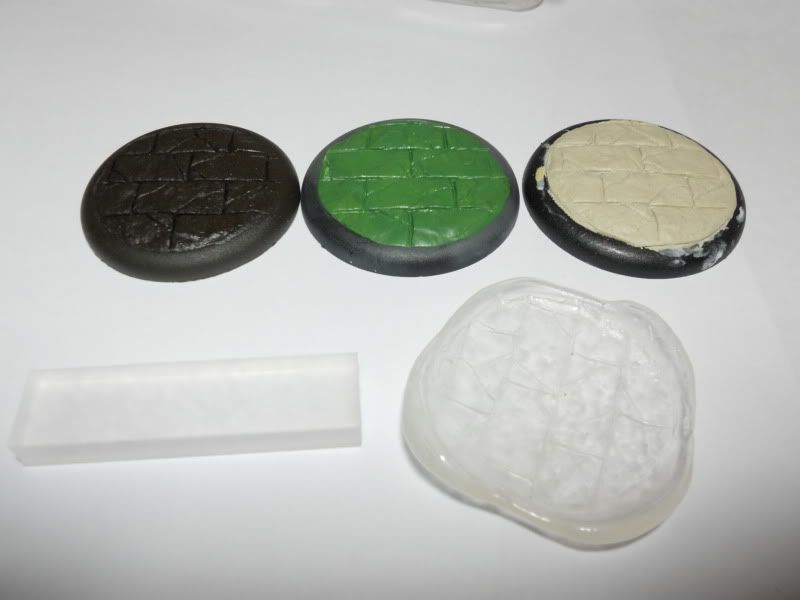 At the left you can see the original base, in the middle, you can see a copy made with green stuff, and at the right you can see another copy this time made with parsecs. You can also see the mold and the material before use.
A la izquierda pueden ver el original, al medio, pueden ver la copia hecha con masilla verde, y a la derecha una copia hecha de parsecs. También pueden ver abajo el molde y el material antes del uso.