I was painting the metallic Exemplar Errant Knights and then suddenly I realize that the ones with sword and shield in their hands doesn't have the sword sheet. The ones with the crossbows on their hands have the sword on the sheet. So I want sheets for the poor errant knights.
I looked on ebay for bits, because the new plastic ones had the sword sheet, but I found nothing. Then I thought on instantmold!
With care I removed one sword from a crosbow knight (I already finish them) and made a mold. Today I made the last of the 6 swords I needed.
When I return home today, I'll remove the handle of the swords to leave just the sheet.
For now, here are some pictures of the molds, a cloned sword (yes, I didn't clones all the handle because I want to remove it) and the sheet without the handle.
Estaba pintando los Exemplar Errant Knights de metal cuando de pronto me di cuenta que los que llevan espada y escudo en las manos no tienen la funda de la espada. Los que llevan las ballestas en las manos si tienen la espada en su funda. Así que quiero fundas para los pobres errantes.
Busqué en ebay por piezas, porque los plásticos las traen, pero no encontré nada. ¡Entonces pensé en el instantmold!
Con cuidado le saqué la espada a uno de los caballeros con ballesta (que ya están terminados) e hice el molde. Hoy hice la última de las espadas que necesitaba.
Cuando regrese a casa hoy, removeré los mangos de las espadas para dejar sólo las fundas.
Por ahora, acá hay algunas fotos de los moldes, de una espada clonada (si, no copié el mango completo pues voy a quitarlo) y la fnda sin el mango.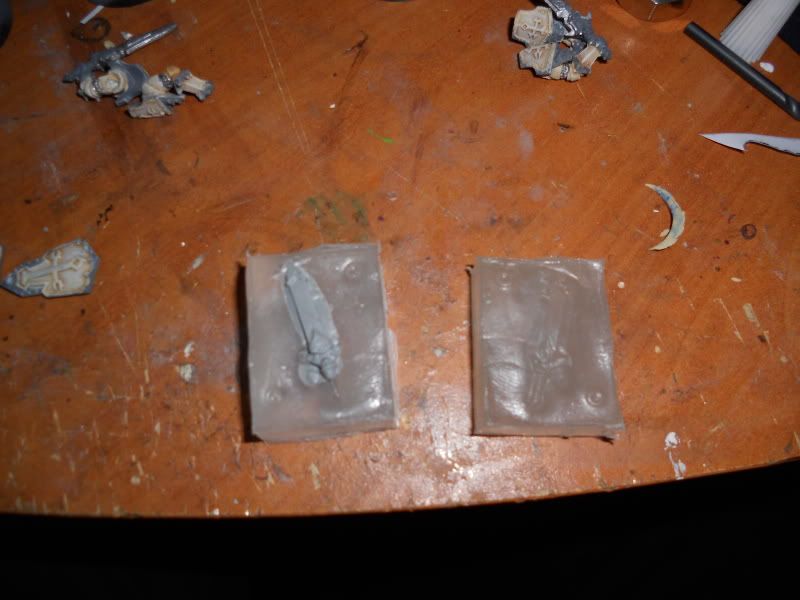 And a preview, one of the 6 already finished exemplar errant knights.
Y como una vista previa, uno de los 6 errantes que ya está terminado.