Well, true speacking this is no a step by step tutorial, because I finished the model before I could think of sharing it, I promise to do one with a Rhino I still not assemble.
For now I left you with my Land Raider:
Bueno, aunque en verdad no es un tutorial paso a paso pues el modelo lo terminé antes de que se me ocurriera compartirlo, prometo hacer uno con el rhino que me queda por armar.
Por ahora, les dejo mi Land Raider:
Materials:
1 land raider Crusader/Redentor.
2 disk magnets of 5mmx2mm
29 disk magnets of 3mmx1mm
3 magnets of 2mmx1mm
The land raider lascannon kit from Hoard o Bits (ebay)
A twin linked heavy bolters (just the weapons) from a Razorback.
Materiales:
1 Land Raider Cruzado/Redentor.
2 imanes de 5mmx2mm
29 imanes de 3mmx1mm
3 imanes de 2mmx1mm
kit de lascannons de land raider en venta en HoB
Par de bolters pesados que sobraron de un razorback
1) With extreme care, do the perforations on the weapon support, like on this photo:
1) Con mucho cuidado hacer agujeros de 5mm en los soportes de las armas, tal y como se puede ver en la siguiente foto: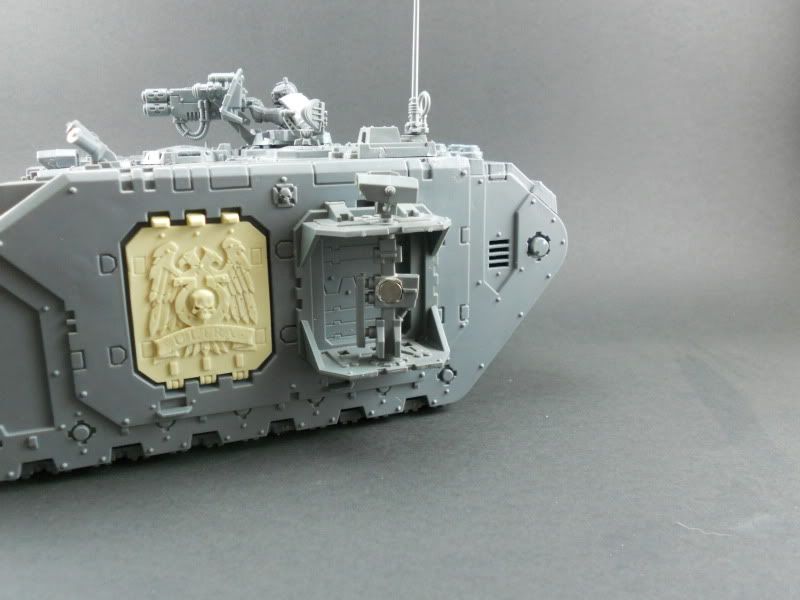 2) To magnetize the weapons, before finish the lascannon or the flamestorm cannon's assembly, glue magnets on the same holes that comes for joining with the weapon support. You can insert the 3mm drill first to make sure the magnets fits.
2) Para imantar las armas, antes de terminar el ensamblaje del cañón láser o de los lanzallamas del redeemer, pegar imanes en los mismos agujeros que vienen para unirlos al soporte. Repasar primero con una broca de 3mm.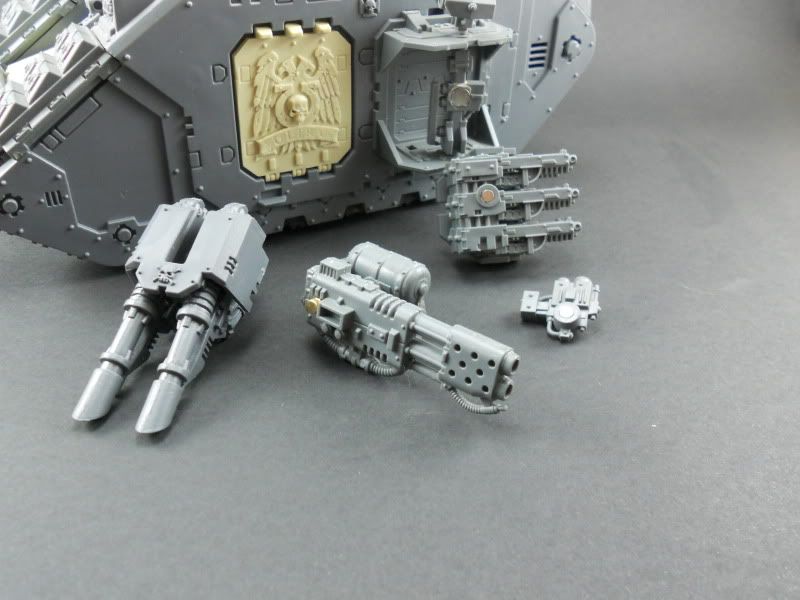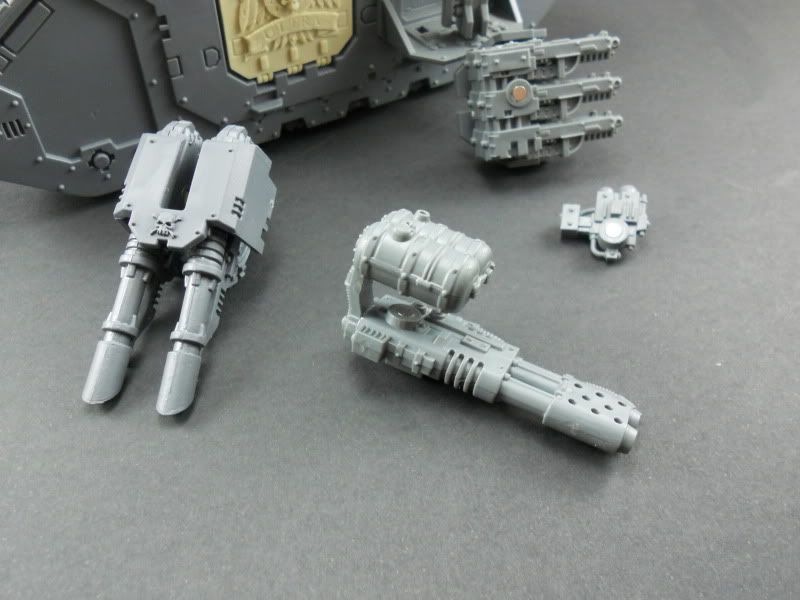 3) For the weapon's "shield", I used a 3mm magnet inserted into the hurricane bolters, and two magnets glued together for the flamestorm cannon.
3) Para el escudo lateral de las armas, usé un imán de 3mm metido en los bolters huracán, y 2 imanes juntos en el caso del lanzallamas.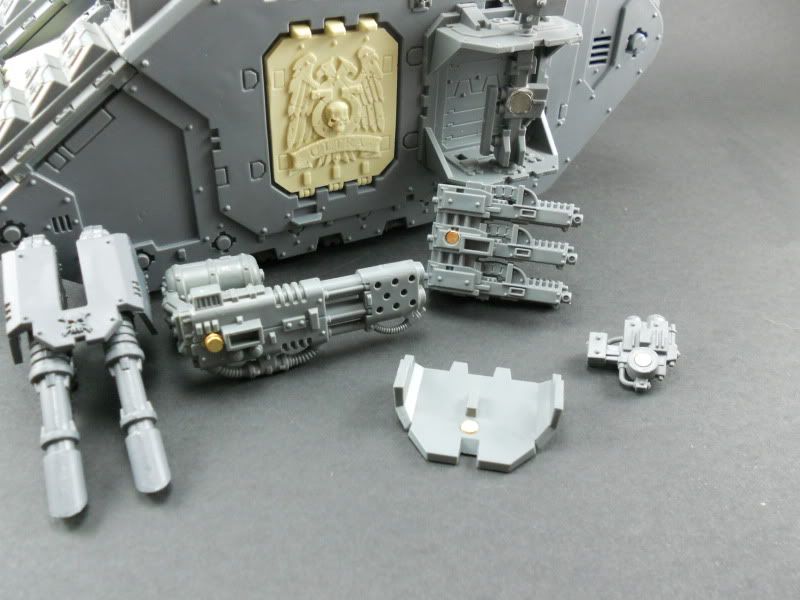 4) For the assault cannon/heavy bolter, I used 3mm magnets on the weapons, in the same way that I used in the sponsor weapons, gluing one on the weapon support, and one on each of the weapons, on the same hole that comes for joining them to the weapon support. The way I joined the weapon to the hull proved to be more complex, because I want to have a 360 degrees rotation, but the solution was simple, I used a joist from the imperial city kit served as support for putting a magnet just in the middle.
4) Para el cañón de asalto/bólter pesado, usé imanes de 3mm, en las armas mismas, de la misma forma que usé en las laterales, poniendo uno en el soporte y uno en cada una de las armas, en el mismo agujero que traen para unirlos al soporte. La unión al tanque demostró ser algo más complejo si quería que girase libremente, pero la solución fue sencilla, una viga de sobra de la ciudad imperial me sirvió como soporte para que el imán quedara en su sitio, justo en medio.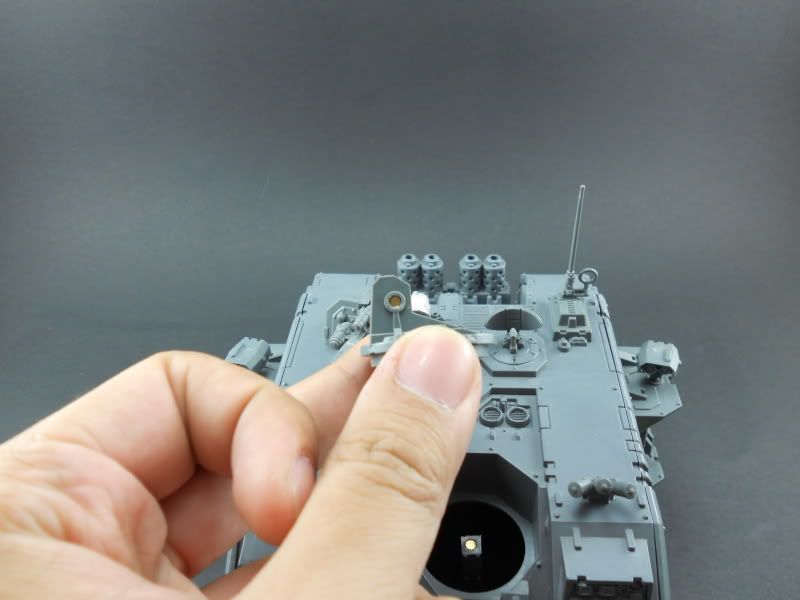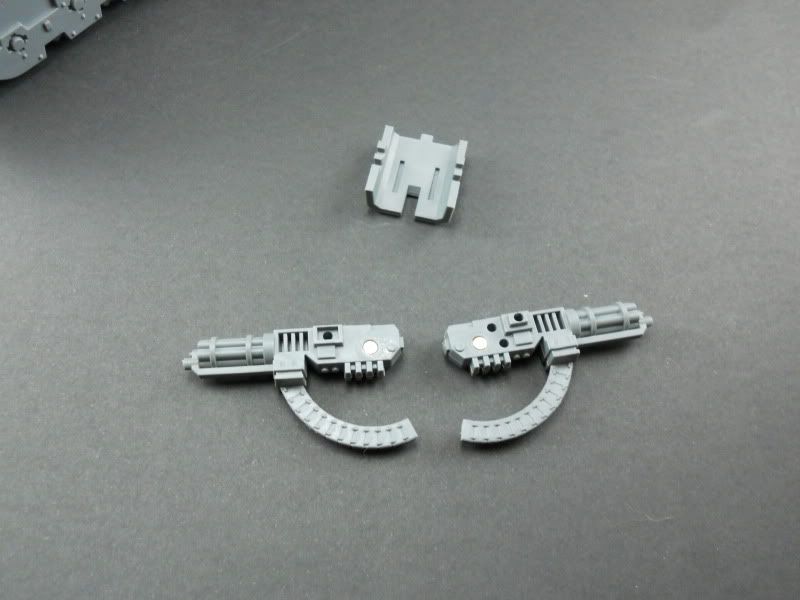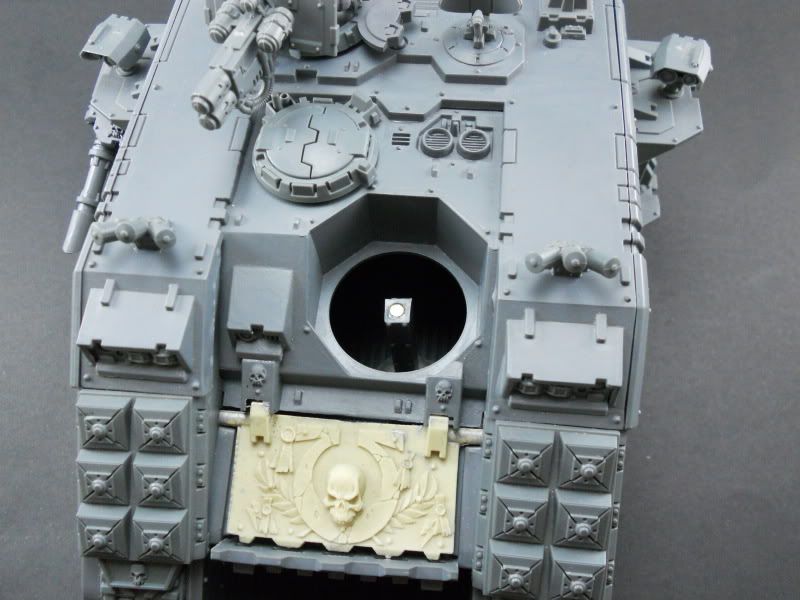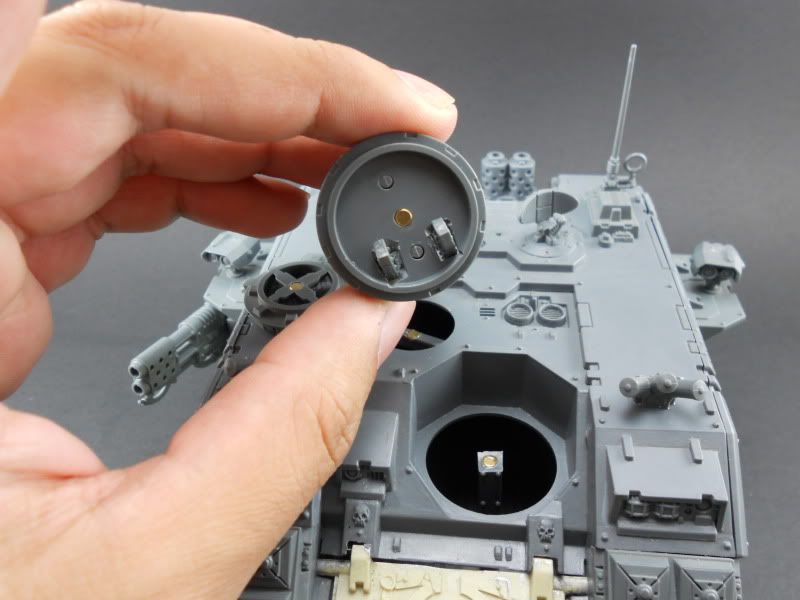 5) I want the hatch magnetized as well, just in case I didn't want the multimelta, so putting a little portion of putty (I used grey stuff) on the gunner base, and applying a magnet to a piece of sprue, I was able to magnetize both hatches.
5) quería dejar imantada también la escotilla para el extraño caso de no querer poner el cañón de fusión, así que poniendo un poco de masilla en la base del artillero y aplicando un imán a un trozo de matriz logré imantar ambas escotillas.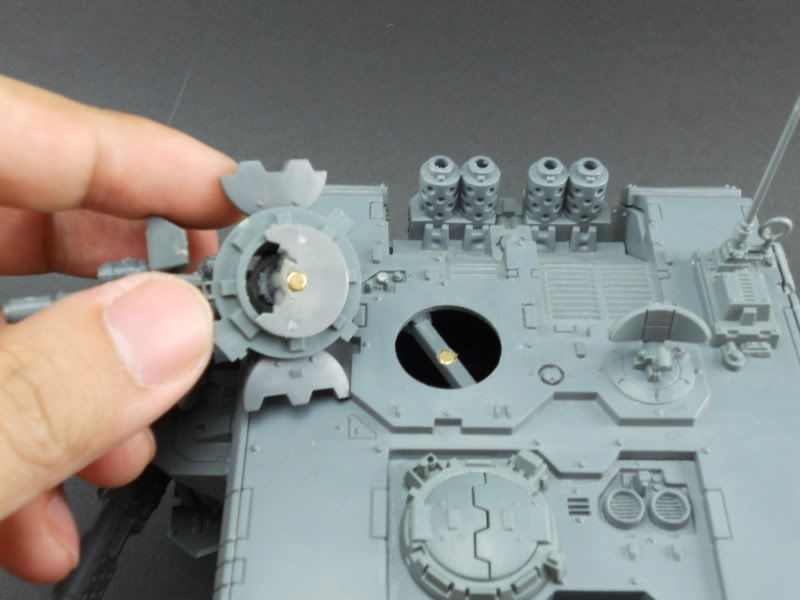 6) To avoid damages to the antennas when I carry it out home, I decide to magnetized them as well. Here I used the 2mm magnets, 2 on the comunication antenna and one mor on the tall antenna, the base of it hace a 3mm magnet for more magnetic force.
6) Para evitar que las antenas se rompieran al transportarlo, también decidí imantarlas, acá usé los imanes de 2mm, 2 en la antena de comunicaciones y 1 más en la antena recta. La base de la antena recta tiene un imán de 3m para mayor poder de sujeción.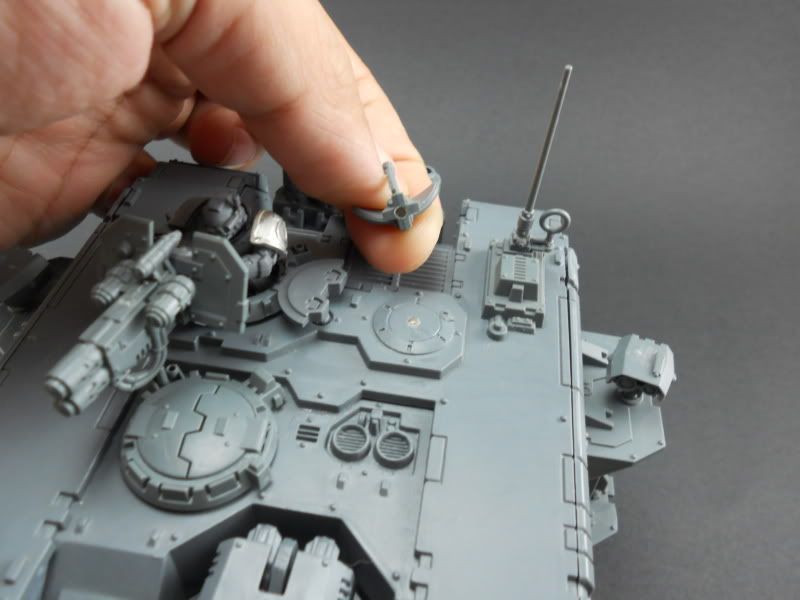 And that's all folks!
Now I'm thinking of it, I would magnetize the frag assault launcher, but when I come up whith the idea of magnetize this tank, the hulk was glued together.. We always can do better, right?
Ahora que lo pienso, hubiera podido imantar los lanzagranadas, pero ya tenía el tanque armado cuando me dió por imantarlo. Siempre se pueden mejorar los proyectos, ¿no?
Pictures of all the pieces and how it looks assembled:
Imágenes de todas las piezas y como queda armado: